Every business needs security. Your storefront has both physical and digital assets that require protection, and only with the right security solutions can you protect yourself from financial or personal loss. My Locksmith is a Denver based locksmith proudly serving businesses in the entire Denver region. We're here to provide both scheduled support and 24 hour emergency locksmith services, depending on your property's needs. Call us immediately for help – (720) 330-4322.
Licensed, insured, bonded, and highly experienced, My Locksmith is the leading choice for business locksmith services in Denver, Colorado.

ABOUT OUR LOCKSMITH SERVICES FOR BUSINESSES AND OFFICES IN DENVER CO
Businesses have different needs than residential customers. While we proudly provide homeowners with our services, including lockouts, rekeying, and lock replacement, we also know that commercial locksmith services require more expertise, discretion, and urgency.
Every technician at My Locksmith is intimately familiar with the needs of commercial properties. It's why we are able to offer essentially all potentially relevant services to enhance your security, including:
Master Key System Installation – We can install or replace entire master key systems of any size. Our services make it easy for you to determine a hierarchy of security at your business and make sure only those that need access have access.
Business Rekey Solutions – Rekeying a business can be complicated, including determining when to rekey the system and how to determine who should get access to each door/lock and which locks the previous keys had access to in the past.
Fleet Vehicle Key Services – If you operate fleet vehicles, you may find yourself in situations where you need extra keys or replacement keys for your fleet vehicles. We can assist you there as well, with keys that connect perfectly with your car, truck, or other automobiles.
High Security Electronic Locks and Keys – We can install higher security systems, including electric strikes, and we can provide keypads, key fobs, card readers, and other higher security locking systems for added protection throughout your company.
File Cabinet Lockouts – In any commercial property, there are going to be smaller issues like locked safes or lost file cabinet keys that need to be addressed. No project is too big or too small for our professional and prompt business locksmith service.
Door Repair, Panic Devices, and More – Security is not only about locks and keys. It's also about broken doors, installing emergency exists and one way locks, and much more. Key duplications, lock replacements, and more, we're always here to help you with whatever your locksmith needs may be.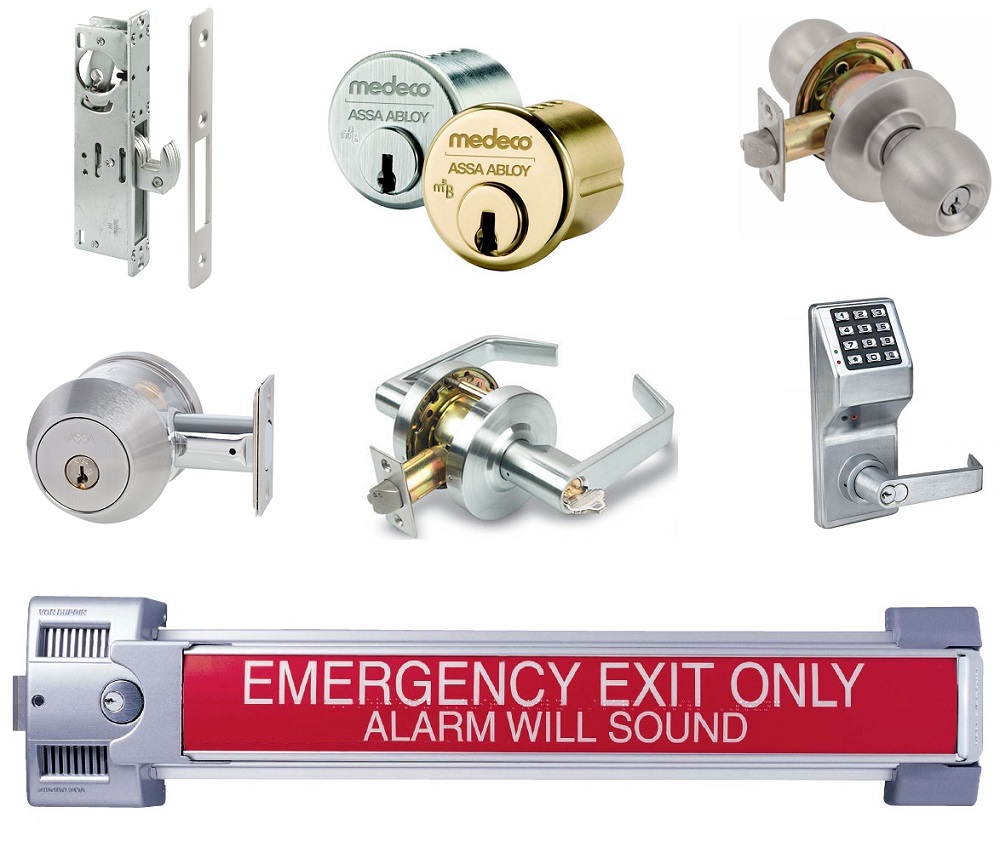 24 HOUR EMERGENCY COMMERCIAL LOCKOUT AND LOCKSMITH SUPPORT
Most of the time, our services can be scheduled during traditional business hours. But there are many situations when you find yourself in a locksmith emergency. Our 24/7 business and commercial locksmith service can help when you're struggling with a lockout, a broken lock, a broken door, or even a last minute full rekey service to protect a compromised key.
The best way to reach us for our scheduled service is to call us right away at (720) 330-4322 so that we can respond fast to your lock related problem.